---
Dj Migz
Presented by DJ Migz
MY SHOW
Boogie Down is delivered mainly as a "Mixed Bag" show, However, I introduce regular one and two hour themed features on a regular basis.  Some examples of previous shows are, the genre specific "The Jazz Spectrum", from musical eras, 70s, 80s etc & Artist/Producers Features.
The mixed bag element is an amalgamation of classic & obscure old school grooves, from all genres, some you know, and some that are new to your ears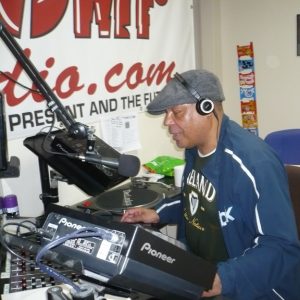 Genres


Jazz, Funk, Boogie & Rare Grooves.


80s, 90s & 00s House Music.


Hip Hop, Electro & Freestyle.


Reggae


Acid Jazz & Nu Jazz


MY BACKGROUND
I have been DJing ever since the mid-80s playing in house functions whilst serving in the Armed Forces.
My music knowledge has been derived from many sources, from clubbing, pirate radio stations and visiting record shops. 
Growing up in the East End, I was exposed to the delights of The Lacy Lady and Ilford Town Hall amongst others.
In the 90s, my involvement in the music industry was working in an independent record store, later, a main high street brand, no longer with us, as a buyer.  At the same time playing pubs and bars in Essex and Camden, notably WKD & HQ.
I became a resident Dj at Po Na Na whilst at University based in Cambridge, my highlight having helped organise student nights at The Junction.
I played at various Cambridge University campuses, namely (Jesus, Queen's, Newnham & Trinity), the finale was to play at the Jesus College Summer Ball, alongside acts such as De La Soul and The Scratch Perverts on the line up.
I recently joined the "open deck" circuit, playing all over London, later securing a regular night at Farr's School Of Dancing and The Jago both in Dalston.
I began presenting "Boogie Down" for Stomp Radio in Jun 2019
---
Read more
---