---
Colin Barnby
Presented by Colin Jazzy Barnby
Colin Jazz Barnby Promotor, DJ, and Radio presenter.
It all started for me back in the seventies whilst at school in East London. I discovered back then what real music was all about, the music and the vibe was hot!
I started clubbing and DJing from a young age and frequented places like The Goldmine, The Royalty, Epping Forest Country Club, Lacy Lady, Wheelers, Billys …etc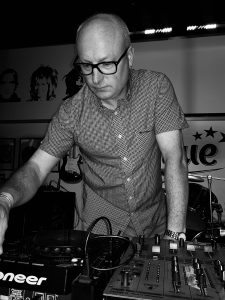 An original Soul Boy from back in the day, complete with a wedge hair cut (yes I once had hair) and all the clothing that went with it.
I started collecting and playing music back in the early 80's Being a veteran and around the scene for so long means I have a vast knowledge of the music and often quote many anecdotal stories along with facts.
Whilst my roots lay musically very much in a Jazzy vein and I can often be found playing in the jazz room. I also love my Soul, Jazz Funk and RnB.
Musically I drop anything from Jazz, Latin, Jazz Funk, Soul, Funk, Rare Groove, RnB, and sometimes a splash of the Disco glitter ball is there to be heard too.
I've played at various All dayers, Weekenders, Soul Holiday Events aboard and gigs, I hold residencies around the Essex and East London area.
Soulanza
The Frogmarch
The Uncaisterables
The Goldmine
The Dance Floor
Soul by the Sea
SHUK
Soul Fiesta
Smooth Grooves
Radio
I currently present on Stomp Radio and have my own show Closer to the Source
I have also worked on The Soul Appreciation Society on Solar radio
To me, it's all about the music and groove, seeing those happy smiling faces, as they dance to the tunes.
---
Read more
---