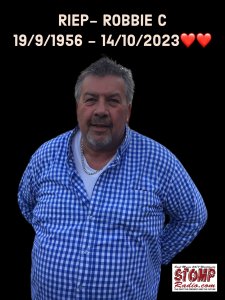 Stomp Radio Official Statement:
It's with great sadness that we have to inform our wonderful listeners of the passing of one of our legendary Presenters.
Robbie C Passed away on Saturday 14th Of October after a short illness.
Robbie C was an original presenter from our Pirate days of the 80s so his friendship goes back over 35 years with some of our presenters.
It's a massive loss for us as Robbie was so popular with the listeners and his shows were always delivered with such professionalism.
We would like to extend our deepest condolences to His Wife Andrea and Robbie's family and close friends.
You will be truly missed by all the team at Stomp.
RIP Robbie,  may music follow you forever on your onward journey